Famous Bears: Smokey the Bear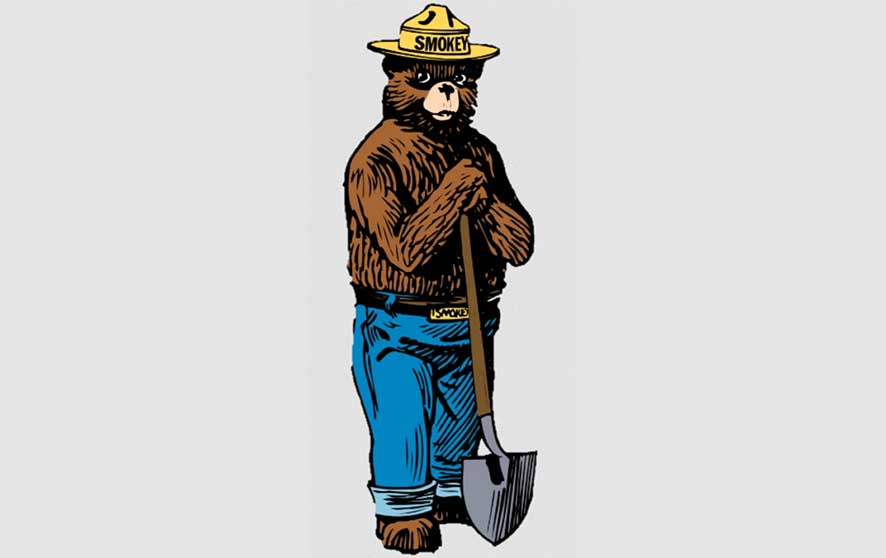 April 15, 2023
We have all seen the devastation that wildfires leave in their wake and footage of the thousands of firefighters that are out trying to fight them. That is today, but back in the era of World War II, able bodied men were out fighting in Europe, which didn't leave many at home to take on firefighter roles. This is when the United States government knew they had to step in and do something. That something was Smokey Bear. He was first created in 1944 and today the campaign to stop fires before they start is one of the most powerful public service campaigns of all time. Everyone knows who Smokey Bear is and everyone knows his message that "only YOU can prevent forest fires!"
The living symbol of the campaign to stop fires from happening in the first place was a black bear cub that had climbed a tree to flee the Capitan Gap fire in New Mexico in 1950. He was rescued and later found a home at the National Zoo in Washington D.C. He became so popular that he received 13,000 pieces of mail each week from his fans. He lived at the zoo until he died and his ashes are now buried in Smokey Bear Historical Park in New Mexico where his story began.
Smokey the Bear the animated symbol to stop forest fires was a part of the 1950's popular culture as he was on the radio, in comic books and featured in cartoons. In 1955 the first kids' book featuring Smokey hit the market following the 1952 release of a Smokey the Bear doll in his likeness.
In 1984 the United States Post Office issued a stamp featuring Smokey to commemorate his 40th anniversary as an icon and now Smokey Bear Days is an annual event in Capitan New Mexico. The first weekend in May each year is full of chainsaw carving contests, music contests, food, vendors, a parade and a firefighter's muster competition all with the message that fires don't need to happen.
Smokey's brazen message was altered somewhat in 2001 and now reads "Only you can stop wildfires" in a push to make the public realize that grasses and places that aren't technically classified as forests can also catch fire and wreak havoc on the environment too.
Smokey the Bear is a symbol that has changed a little bit since his first inception in the 1940's but he has stood the test of time. Will your custom plush do the same?
What are you waiting for?
---
Previous Post
Mascots: Mr. Clean

---
Next Post
Famous Bears: Yogi