Mascots: Mr. Clean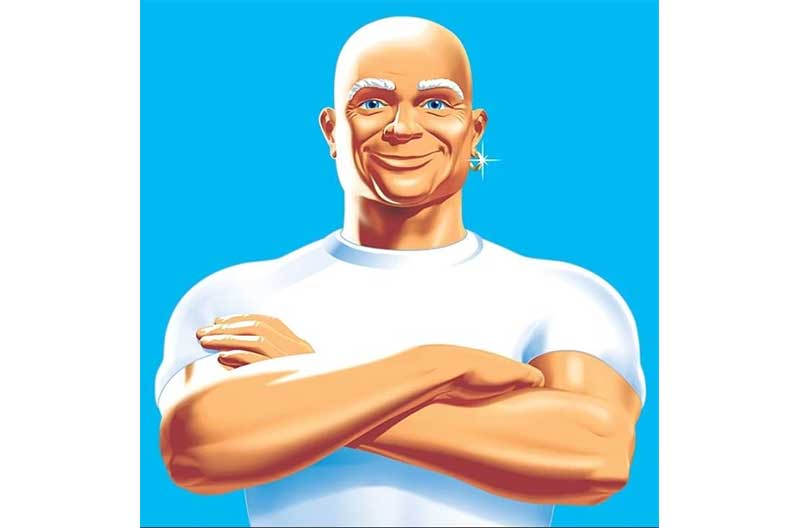 March 15, 2023
When you think of mascots that are forever linked to a brand a few names come to mind. There's the Kool Aid Man, Ronald McDonald, the Energizer Bunny, the M&M's and oh yes, Mr. Clean. None of these mascots are real of course– although there have been a few actors over the years who have played Mr. Clean on television commercials—but we all know who they are, and most importantly what they represent.
When it comes to brand mascots, the owners want everyone to know instantly what they are selling. Mr. Clean has been around since 1958 and has always looked the same, bright white shirt and pants, smiling face, kind eyes, muscular build, bald head and a tan to show off that bright white shirt. He 'looks' clean to anyone that sees him and he 'looks' powerful like he can clean anything properly the first time, as he looks no-nonsense and able to handle anything. What better image could Procter and Gamble have come up with than Mr. Clean selling their cleaning products? Well, apparently nothing since he's looked much the same for all these years. If it's not broken, don't fix it, right?
Mr. Clean came into being when a ship cleaner and his friend came up with a better and less corrosive, chemical filled way to clean the grime and grease off of ships. If the cleaner was more user friendly then they could stop paying for worker's disability claims and workers would be happy and a lot safer. When an artist drew the Mr. Clean man for the first time, people assumed he was a sailor because of his start on ships. Others think Mr. Clean is a genie of some sort because he is magical when it comes to cutting through grease and grime.
Today we see Mr. Clean in a wide range of television commercials and also gracing the package labels of the cleaners in his line. The jingle remains the same as does the character and it is the longevity which has made him and the products household names.
If you have a mascot that you would like to market, how about creating a custom plush of him or her? It's a lot easier than you think and the friendly people at CanaBears are with you from first design right through to the finished product. All you need is a sketch to get things going. What are you waiting for?
---
Previous Post
Mascots: Al the Octopus

---
Next Post
Famous Bears: Smokey the Bear