Mascot Stuffed Animals
Service Name: Mascot Stuffed Animals
Minimum Order: 500 pieces with price breaks starting at 1000 pieces
Sizes Offered: 5" to 24"
Average Turnaround: 90 to 120 days
Rush Turnaround: 60 to 90 days
---
Whether you're a sports team, university or business located in the United States or Canada, we have over 10 years of experience replicating life size mascots into high-quality 5" to 24" mascot stuffed animals for you to then sell within your retail and online stores or giveaway at your next promotional event.
In addition to replicating your mascot into small custom mascot stuffed animals, we'll add a high gloss card stock hang tag to each stuffy that can display your main logo or secondary logo, as well as your contact details, event details and slogan! There's no doubt, your custom stuffed animals will be a hit with your fans, students or customers!
If you have any questions about turning your team or business mascot into high quality custom stuffed animals, don't hesitate to get in touch or request a free quote now, to review costs and turnaround!
---


---
Mascot Stuffed Animals > Quick F.A.Q.
Do you create a prototype that I can review before I place my bulk stuffed animals order?
After you approve a quote, you'll be assigned your very own Project Manager who will help create a physical prototype sample of your life size mascot that you can then revise until you're happy. It typically takes around 2 to 4 sets of revisions before a client approves a prototype via photos. Once approved via photos, we'll mail you the prototype sample, for an in person review!
What sizes do you offer?
For custom mascot stuffed animals, we offer a size range of 5" to 24". Some mascots are quite complex, so please note, that the smaller the size, the less detail we can replicate. Most clients go with at least a 7" size, while the 9" and 12" sizes are most popular. Ultimately, it comes down to what works best to represent your specific custom mascots design and what price and/or profit you're looking to achieve.
What's the minimum bulk order quantity?
Our minimum order is 500 pieces per design with price breaks occurring every 1000 pieces ordered thereafter. Due to the high volume of work we bring our partnered factories, we've been able to negotiate lower minimums so as to help accommodate small teams and businesses, as well as large corporations who might seek lower volumes as a "test run" before ordering larger bulk quantities.
---


---
What clients are saying
"Hey Jordan,
The product is doing well for us and is helping us grow our mascot brand by associating the knights with kids at a very young age. Custom Plush Innovations created a solid representation of our mascot, with very little to work with, to overall help us improve the relationship with our mascot and fans. Let me know if you need anything else. Cheers."
Carter Warwick – London Knights
"Just wanted to say thanks - the GO Transit mascot bears have been a big hit! Thanks again for all your patience and hope to work together again soon!"
Zdenka Jasura – GO Transit
"Jordan, We did get them and everyone loves them as always!  Thanks again for all your hard work!!"
Mike Johnston – Erie Otters
---
3 Step Creation Process
It can be a difficult task to manufacture your very own mascot stuffed animal, using a possibly inexperienced domestic or foreign factory. Language barriers, lack of communication and added turnaround times are just a few issues with organizing a bulk stuffed animals order for safe and timely shipping.
Thus, we want to remove the headaches and possible aggravations from your custom mascot stuffed animals project, and manage it every step of the way using our easy 3 Step Creation Process, which includes 1- The Prototype Stage, 2- The Mass Production Stage and  3 - The Shipping Stage. We have the manufacturing and freight forwarding experience you need in order to help make your custom plush project a success!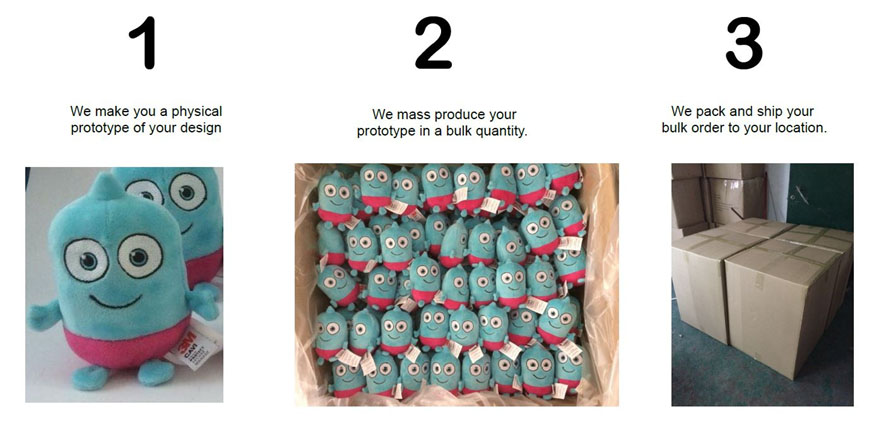 ---
Get the ball rolling.
Grab yourself a free quote now