Famous Mascots: Ronald McDonald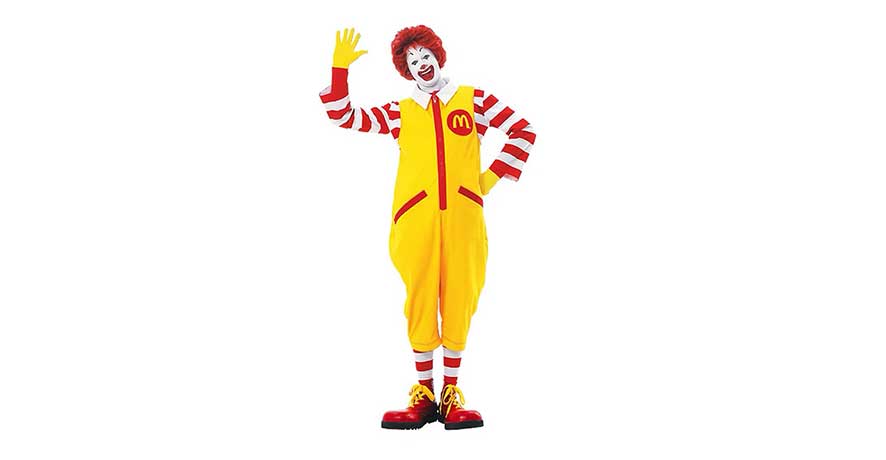 September 16, 2023
Perhaps the best known mascot of all time is McDonald's Ronald McDonald, that clown that is as synonymous with the fast food chain as the Big Mac is. He is an instant link to the restaurant that has served billions across the world and his likeness can be found in comics, in books and in animated series' alike. He is someone that 98% of children know and can recognize with just a glance and is the brand ambassador, with the Ronald McDonald Children's Charities and Ronald McDonald Houses around the world bearing his name.
Ronald McDonald is all yellow, white and red. He has red hair and a red and white striped shirt under a yellow jumpsuit and large red clown shoes. Typical clown makeup completes the look and although he's been around since the 1960's he has gone through a few changes over time. Many may not know this, but Willard Scott was the first person to play Ronald McDonald and he has even gone as far as to claim it was he who invented the character in the first place. Over the years, the Ronald we know today has evolved and there are many different people who play him in appearances, all trained so that the mannerisms are the same across the board.
In a world where so many people are afraid of clowns it is amazing that he is still such a successful brand ambassador, but that he is. When you are as popular among kids as Santa Claus it seems you can do anything!
Do you have a mascot to promote your restaurant or team? Maybe you need some custom plush likenesses to use as a handout or a promotional tool or maybe you just want to sell those plush mascots to patrons. Whatever the case, Custom Plush Innovations can help you with all aspects of creating a custom plush mascot. They will guide you through choosing the right materials and help you with accessories, colours and sizes. All you need is a photo or two of your mascot or, if he or she doesn't exist yet, a sketch of what you want and then your journey can begin.
What are you waiting for? Your mascot may just become as big as Ronald McDonald one day  but you have to start somewhere!
---
Previous Post
Famous Mascots: The Philly Phanatic

---
Next Post
Famous Mascots: Paws the Tiger