Custom Golf Headcovers
Service Name: Custom Golf Headcovers
Minimum Order: 300 pieces with price breaks starting at 500 pieces and 1000 pieces
Sizes Offered: approx. 15" with sock
Average Turnaround: 90 to 120 days
Rush Turnaround: 60 to 90 days
---
Is your large or small business in need of high quality custom golf headcovers for your next company golf tourney? Or perhaps you need a bulk quantity of custom headcovers to retail in your boutique or clubhouse?  Then why not utilize our high quality custom headcovers service, which provides a low minimum order quantity of only 300 pieces!
We design and manufacture, high quality professional looking custom golf headcovers based on your companies mascot or illustration, for both your retail and promos needs.
If you have any questions about our custom headcovers, don't hesitate to get in touch and ask for a free detailed quote (link) so you can review your projected costs and turnaround times.
---

---
Custom Golf Headcovers  > Quick F.A.Q.
Do you create a prototype that I can review before I place my bulk golf club headcovers order?
After you approve a quote, you'll be assigned your very own Project Manager who will help create a physical prototype sample of golf headcover design that you can then revise until you're happy. It typically takes around 2 to 4 sets of revisions before a client approves a prototype via photos. Once approved via photos, we'll mail you the prototype sample, for an in person review!
What sizes do you offer?
For custom golf headcovers, we offer a standard size of approximate 15" with sock included.
What's the minimum bulk order quantity?
Our minimum order is only 300 pieces per design with price breaks occurring at 500, 1000 and every 1000 pieces ordered thereafter. Due to the high volume of work we bring our partnered factories, we've been able to negotiate lower minimums so as to help accommodate both small and larger organizations, who might seek lower volumes as a "test run" before ordering larger bulk golf club headcovers quantities.
---

---
What clients are saying
"Hi Jordan,
We had an amazing experience working with Custom Plush Innovations. Their team was able to successfully bring our idea to life, and we are more than impressed with the level of quality and detail shown on each of our plushies. A big thank you to Jordan for communicating with our team from start to finish, and ensuring that our order was shipped on time for our event. We highly recommend Custom Plush Innovations and will be ordering from them again! Thanks again for all of your help!"
Evan Chang – Regency Auto
"Hi Jordan,
Thank you so much for checking in! Sorry for taking so long to get back to you. We're really happy with the quality of the plushes! They came out perfect! We don't have any need for more as of now, but if we do in the future, you'll be the first company we come to!"
Peter Jarecki – Rocky Media
---
3 Step Creation Process
It can be a difficult task to manufacture your very own custom golf headcovers, using a possibly inexperienced domestic or foreign factory. Language barriers, lack of communication and added turnaround times are just a few issues with organizing a bulk golf club headcovers order for safe and timely shipping.
Thus, we want to remove the headaches and possible aggravations from your custom headcovers project, and manage it every step of the way using our easy 3 Step Creation Process, which includes 1- The Prototype Stage, 2- The Mass Production Stage and  3 - The Shipping Stage. We have the manufacturing and freight forwarding experience you need in order to help make your custom plush project a success!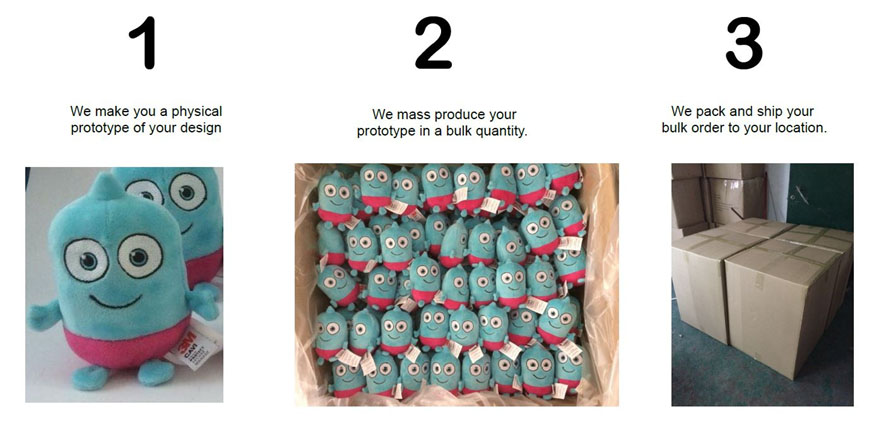 ---
Get the ball rolling.
Grab yourself a free quote now