Custom Puppets
Service Name: Custom Puppets
Minimum Order: 300 pieces with price breaks starting at 500 and 1000 pieces
Sizes Offered: approx. 12"
Average Turnaround: 90 to 120 days
Rush Turnaround: 60 to 90 days
---
Are you looking for a high quality, professional puppet maker to turn your company mascot or book character into soft, reliable custom made puppets? Then you've come to the right place, as Custom Plush Innovations offers our Custom Puppets service for a low minimum order of only 300 pieces!
We design and manufacture, high quality professional looking custom puppets based on your companies mascot or illustration, for both your retail and promos needs.
If you have any questions about our custom made puppets, don't hesitate to get in touch and ask for a free detailed quote (link) so you can review your projected costs and turnaround times.
---

---
Custom Puppets  > Quick F.A.Q.
Do you create a prototype that I can review before I place my bulk order of custom puppets order?
After you approve a quote, you'll be assigned your very own Project Manager who will help create a physical prototype sample of your puppets design that you can then revise until you're happy. It typically takes around 2 to 4 sets of revisions before a client approves a prototype via photos. Once approved via photos, we'll mail you the prototype sample, for an in person review!
What sizes do you offer?
For custom made puppets, we offer a standard size of approximate 12". If you need something smaller, let us know.
What's the minimum bulk order quantity?
Our minimum order is only 300 pieces per design with price breaks occurring at 500 and 1000 pieces and every 1000 pieces ordered thereafter. Due to the high volume of work we bring our partnered factories, we've been able to negotiate lower minimums so as to help accommodate both small and larger organizations, who might seek lower volumes as a "test run" before ordering larger bulk custom puppets.
---

---
What clients are saying
"Working with Custom Plush Innovations was literally a dream come true! They skillfully handled the process of creating the perfect prototype, manufacturing my product, and even delivery of my final plush (and everything else in between - which is a lot more than you think). Communication couldn't have been better whether it was via e-mail updates or phone calls. Even with such an attention to detail to every aspect of bringing my plush to life, you would be very hard-pressed to find better pricing or a nicer company to work with. I couldn't be happier - thank you!"
Willliam Faust – Top Shelf Fun
"Hi Jordan,
All is going well! We had a great experience working with CanaBears in coordinating the manufacturing of our puppets. Our previous experience trying to get these manufactured directly overseas was a nightmare and so we really appreciated the single point of contact and the start to finish service provided by CanaBears. We will certainly consider CanaBears again for future custom plush needs."
Darrel Nadeau – Canadian Centre for Child Protection
---
3 Step Creation Process
It can be a difficult task to manufacture your very own custom made puppets using a possibly inexperienced domestic or foreign factory. Language barriers, lack of communication and added turnaround times are just a few issues with organizing a bulk custom puppets order for safe and timely shipping.
Thus, we want to remove the headaches and possible aggravations from your custom puppets project, and manage it every step of the way using our easy 3 Step Creation Process, which includes 1- The Prototype Stage, 2- The Mass Production Stage and  3 - The Shipping Stage. We have the manufacturing and freight forwarding experience you need in order to help make your custom plush project a success!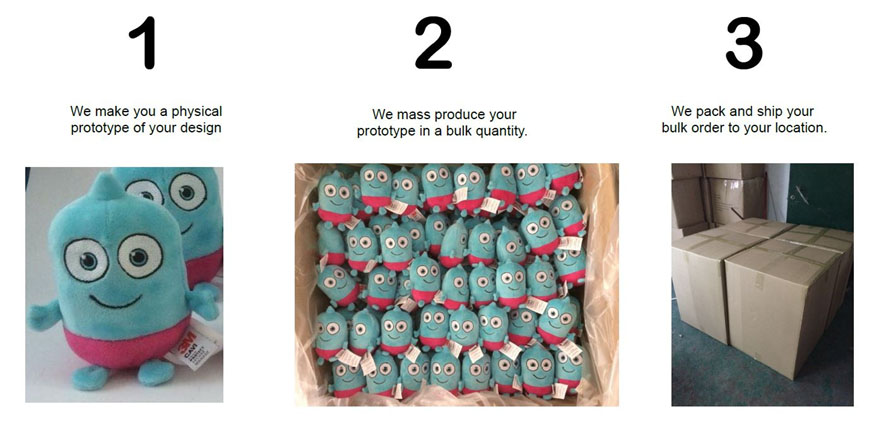 ---
Get the ball rolling.
Grab yourself a free quote now