Logo Pillows
Service Name: Logo Pillows
Minimum Order: 300 pieces with price breaks starting at 500 and 1000 pieces
Sizes Offered: approx. 15"
Standard Turnaround: 90 to 120 days
Rush Turnaround: 60 to 90  days
---
Can you imagine your company logo pillow hanging out on your customer's desk or chair? Or perhaps used as a high quality addition to their home décor? And heck, since these ARE pillows...your customers can even use them to catch some zzzzz's?! Well if you've imagined it, then you've come to the right place, as Custom Plush Innovations can turn your company logo and colors into soft high quality custom pillows for both your retail and promo needs!
Measuring in at approximately 15" in diameter, our plush pillows will compliment any room's décor and will leave your customers wowed! Our logo pillows are made of high quality materials and embroidery and can be surfaced washed.
Don't have a
If you have any questions about our plush pillows don't hesitate to get in touch and ask for a free detailed quote so you can review your projected costs and turnaround times.
---

---
Logo Pillows  > Quick F.A.Q.
Do you create a prototype that I can review before I place my bulk plush pillows order?
After you approve a quote, you'll be assigned your very own Project Manager who will help create a physical prototype sample of custom plush pillows design that you can then revise until you're happy. It typically takes around 2 to 4 sets of revisions before a client approves a prototype via photos. Once approved via photos, we'll mail you the prototype sample, for an in person review!
What sizes do you offer?
For logo pillows, we offer a standard size of approximate 15".
What's the minimum bulk order quantity?
Our minimum order is only 300 pieces per design with price breaks starting at 500 and 1000 pieces.
---

---
What clients are saying
Hey Jordan, Sorry for the delay, I received the full 3 boxes a few days ago, and I did an inventory count just in case :]
Thank you SO much for being on this adventure with me, sorry if it was stressful at times. The Puglies turned out amazing (there's only about 3-4 that have their tails not-sewn, but that's fixable on my end). Thank you and your company for all your hard work, fingers crossed they sell out fairly well/fast, and I can re-order soon :] Definitely have been spreading Custom Plush Innovations s to all my creator friends :] All the best, and looking forward to Monstercat. Please let me know if there's anything else needed for this project. Cheers".
Euge Leung – Puglie Pug
"Hi Jordan, The prairie dog arrived yesterday.  I got a lot of "They are so cute!" at the office and at at home.  I'm sure they will be a hit at trade shows.  Thanks. Valérie will process the invoice shortly."
Pierre-Paul Lemyre – Lexum
---
3 Step Creation Process
It can be a difficult task to manufacture your very own plush pillows, using a possibly inexperienced domestic or foreign factory. Language barriers, lack of communication and added turnaround times are just a few issues with organizing a bulk custom pillows order for safe and timely shipping.
Thus, we want to remove the headaches and possible aggravations from your logo pillows project, and manage it every step of the way using our easy 3 Step Creation Process, which includes 1- The Prototype Stage, 2- The Mass Production Stage and  3 - The Shipping Stage. We have the manufacturing and freight forwarding experience you need in order to help make your custom pillows project a success!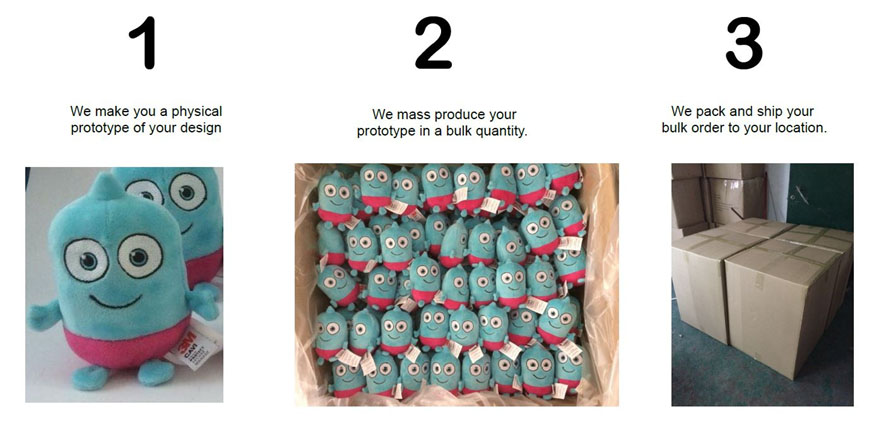 ---
Get the ball rolling.
Grab yourself a free quote now