Famous Mascots: Paws the Tiger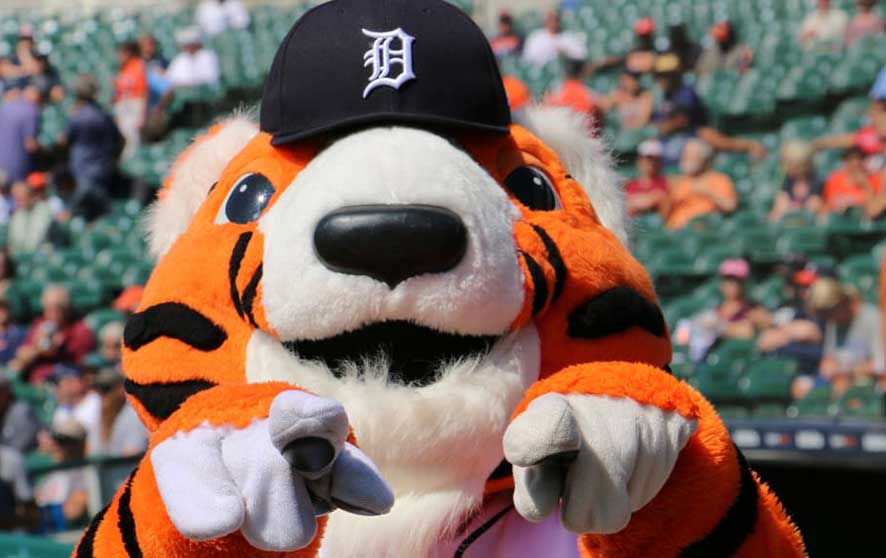 October 14, 2023
Why the Detroit Tigers are called the Tigers is open to a lot of speculation. It could have been that back in the day they wore orange striped socks with their uniforms, or it could be a tribute to a group of cavalrymen from the Detroit area who valiantly fought like tigers during the Civil War. Whatever the story behind the name, the Tigers have been playing baseball in Detroit for decades and what any great team needs is a friendly mascot to help rally the fans. Enter Paws, the cuddly and cute tiger that graces Comerica Park at each home game.
Paws is, of course a tiger complete with his orange fur and black stripes. He stands upright, doesn't use his claws (!) and of course wears the famous Old English D on his hat and sports a Tiger's jersey with his number 00 emblazoned on the back.
Paw's stats, taken from the official Tigers website state that he stands 20 stripes tall, he lives at Comerica Park (where else?) and he both bats and throws using his right paw. He doesn't have a favourite Tiger, as he loves them all equally and he was born back on May 5, 1995.
Today Paws can be seen at each Tigers home game greeting the fans signing autographs and leading the cheering section. He isn't hard to spot, of course as he is a big fluffy tiger dressed in clothes, and he has a fan following all his own. He also does community events, visits schools and malls and can even be rented out should a fan want him to visit their wedding, birthday party or other special occasion.
Paws merchandise is also available, with his likeness on mugs, lunch boxes, T shirts and much more, there are also plenty of plush Paws' available so his fans always have a little piece of him close to their hearts.
So if you have a mascot that you want to promote, why not have Custom Plush Innovations make a plush replica of him or her for merchandising purposes? They make great giveaways and prizes and of course are great items to generate some money for your club or team. All it takes is a photo or a sketch to get you started and then the creative team will guide you through the process until you are looking at a replica of your mascot, loveable, tactile and right there in your hand. What are you waiting for?
---
Previous Post
Famous Mascots: Ronald McDonald

---
Next Post
Famous Mascots: Fred the Red