Mascots: Al the Octopus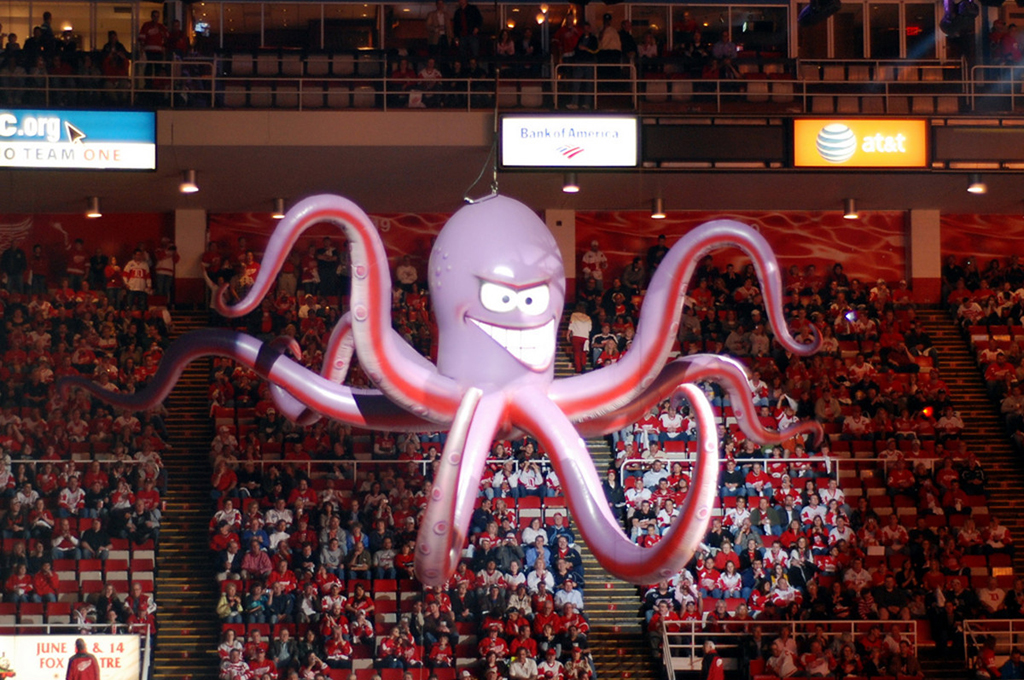 February 15, 2023
Mascots are very popular in baseball where the likes of the Philly Phanatic, Mr. Met or Paws can be seen at each of their teams' home games. Hockey teams have mascots too, though they sometimes aren't as obvious especially when you think of the Detroit Red Wings and the fact that they have an octopus as a mascot.
Why an octopus you may ask? Well, back in the day when there weren't that many NHL teams, you only had two best of seven series to determine who would win the Stanley Cup. That's 8 wins, four each round. An octopus similarly has eight tentacles, one for each needed win. Back in 1952 a couple of brothers who owned a fish market in Detroit came to a playoff game with octopi to throw on the ice, the team won 8 games in a row to win the Stanley Cup, a feat so rare that it must have had something to do with the octopus—right?
Fast forward a few decades and the octopus tradition continues. It's technically illegal to throw anything on the ice during games, but the octopi always find their way onto the ice anyway. It's tradition after all.
So why is the giant purple octopus that graces Joe Louis Arena at playoff time named Al? He's named after Al Sbotka who is the one in charge of heading out onto the ice to pick up all of those sticky octopi after each playoff goal. Seems fitting, and Al always takes his job seriously, whipping them around over his head as he heads off the ice, which always elicits a cheer from the crowd.
In today's NHL teams have to win a total of 16 games to claim the Stanley Cup. That's 4 rounds of best of seven series. Octopi have 8 tentacles, so that's why there are two Al's that adorn the rafters at games these days.
While most mascots have people in the suit, Al is the other kind, the non-human sort but that doesn't mean that he's not marketed. Quite the opposite is true, fans can buy Al stuffies, Al stickers and posters, Al T shirts and much much more. He is as synonymous with the team as the players for he is the symbol of the playoffs and the race to the holy grail of hockey, the Stanley Cup.
If your team has a mascot, why not market him or her like Al? It's easy to get started and the friendly folks at Custom Plush Innovations are there every step of the way to bring your mascot 'to life'.
---
Previous Post
Famous Bears: Rupert

---
Next Post
Mascots: Mr. Clean