Custom Plush Toy Services
We offer various custom plush toys services to cater to your specific retail and promotional needs. So whether you're looking for promotional custom plush giveaways, custom stuffed animals & custom plush toys for your retail needs, custom plush mascot toys or custom stuffed bears , we offer various services, guidance and accessories to cater to each and every one of your custom plush toys needs!
What custom plush toys service interests in you?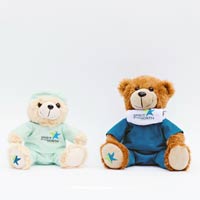 Hospital, Healthcare, Law Enforcement and Organizations
If you're in need of high quality, soft and friendly custom stuffed bears that you can customize with your logo, colours and slogan, check our custom stuffed bears page to read how you can bring your creative ideas to life for your next retail, fundraising or promotional event.